A free evening celebrating the glorious diversity of printmaking, Print Fest will see solo artists and groups from Submit to Love Studios (a collective of self-taught artists based at brain injury charity Headway East London) exhibit and sell original pieces, whilst sharing more about the unique creative practice of the studio.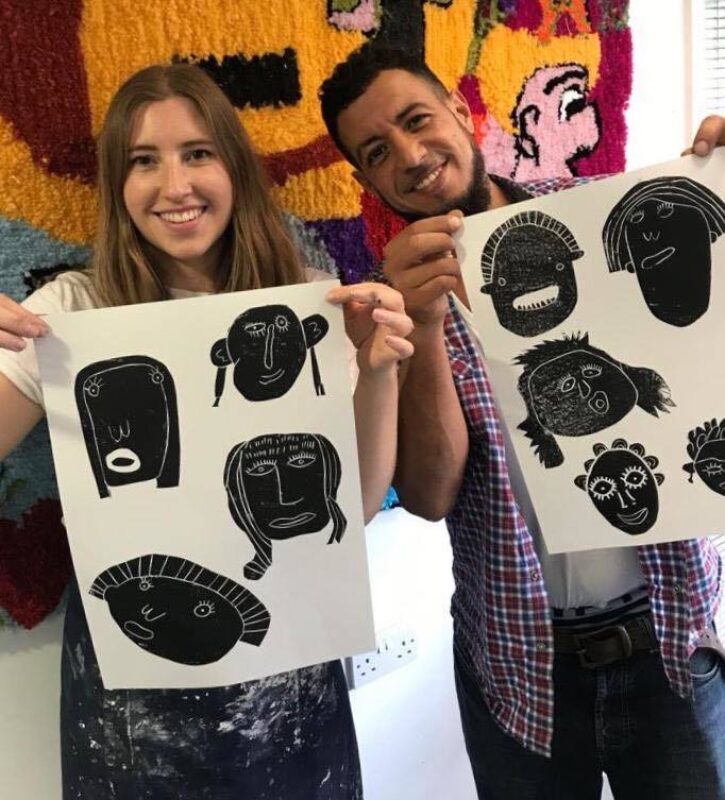 Visitors on the night will be greeted with a vibrant line-up of works including screenprints, monoprints, linocuts and cyanotypes – all created in the studio over the past few years. Print embodies the spirit of dissolving barriers and building community so vital in the studio; being one of the most popular workshops delivered at the studio, it enables the passing on of a skill that can be learnt by anyone. Giving the process centre stage at this event is a celebration of the collaborative and inclusive nature of Submit to Love Studios, as well as a recognition of the artists' many talents.
In addition to selling limited edition prints and merchandise, Print Fest also gives the public a chance to share the spotlight by submitting on-the-spot portraits in the hope of having it included in a future print collaboration. This immersive event will include intimate recordings of artists working on prints in the studio, discussing their creative process. Refreshments will be provided by event sponsors Five Points Brewery Company, who will be stocking the pay bar located in the canal-side garden next to the studio, and there will also be snacks and non-alcoholic refreshments.
One of the artists headlining the event is Alex Sherlock, who suffered from meningitis nearly 20 years ago which left him with a brain injury. In 2012 he joined the Day Service at Headway East London but never considered the creative life that lay ahead of him: 'I was playing pool for the first couple of years, that was the main thing I used to do, and helping out in the kitchen. It's only the last two or so years I've been working in the art room. Michelle [Creative Lead] dragged me in there one day and said she needed my help with something…and it went from there really. Last year I started working on prints and I've worked on virtually everything now, collaborations, lino printing, screen prints – lots of different skills. Before my brain injury I owned a tree surgery and landscaping business, so I designed gardens. I was definitely creative, but I'd never picked up a paintbrush in my life.'
When asked about life in the studio and his creative process, Alex commented, 'There are a lot of people at Submit to Love that are really talented and it's really interesting watching how others work, seeing what techniques they use and thinking about how I can work differently.'
He continued, 'I've had some pieces shown at Headway events before and it was great. I've had a lot of good feedback. For Print Fest, I'm working on some new ideas that I'm really looking forward to share.'
Submit to Love Studios supports a diverse group of artists working with a range of materials; each producing works that are unguarded, emotive and informed by a truly distinctive vision. It also forms part of Headway East London, a charity supporting local survivors of brain injury and their families across 13 London boroughs. Over the past two decades, the charity and its artists have repositioned art from a rehabilitation activity to both a vocation and passion project; whilst also establishing a studio with a growing reputation, boasting recent exhibitions and workshops at the Barbican Centre, Southbank Centre, Science Museum and Barbican Centre. Print Fest invites art lovers and the local community to celebrate the print work of the studio in the informal setting of their beautiful canal-side home.
Submit to Love Studios' Print Fest event takes place on Thursday 1st August, 6-9pm.