Bisila
Bisila Noha is a Spanish London-based ceramic artist, who co-directs Lon-art Creative, an organisation that offers a platform for everyone to create, collaborate and reflect upon social issues through the arts (with a strong focus on women). She also has a background in Translation and International Relations, and has vast experience in Project Management:
"I decided I wanted to be a trustee at some point when I found out how much work it is yet to be done in order to make boards more inclusive. As young woman of colour with a very particular background I thought I could bring some value to an organisation. I have known Headway East London for a couple of years now and not only I admire the work you guys do, but also I share the same values that are at the core of the charity's mission. As an artist passionate about using the arts to generate change in society, I thought that you would be a great match for me!"
We cover 13 boroughs, but we're always looking to learn more about our catchment area! What's your favourite East London spot?
"I love the Dalston Curve Garden and the truth is that I don't go there often enough. My favourite spot for a special dinner is Perilla in Newington Green and right opposite to it, Jolene, is also very very yummy!"
A big part of the Headway day centre is eating lunch together made by the Kitchen Crew! What's your favourite meal to eat/ cook and why?
"Since I haven't been back home – in Spain – for almost a year now, I have started making more Spanish dishes that I miss. My favourite one is croquetas. It is a bit tedious to make them, but definitely worth it. My favourites to cook are either a good stew with lentils, chickpeas and maybe even some chorizo or a good old Spanish omelette."
Head into our studio or main centre, and you'll nearly always hear music – what song always reminds you of good times?
"Tough to choose only one! I would go for INXS Need You Tonight."
Leila
Leila Lodwick is a finance professional who has worked and volunteered for a range of organisations including a children's arts charity in Cambodia and various NGOs in Switzerland. She has a degree in music from Cambridge University and is a strong believer in the therapeutic value of the arts:
"I was immediately drawn to Headway East London because of the inspiring work it does. I have personal experience of brain injury having suffered a brain haemorrhage in 2019 and understand how quickly lives can change in a matter of hours. I also know how important support networks are. I wanted to use some of the skills and expertise I've gained in my career to do something that is important to me."
What's your favourite East London spot?
"There is an excellent Turkish restaurant on Stroud Green Road in Finsbury Park called Petek – the "vegetarian fiesta" is my favourite dish which I highly recommend! I've also spent many hours watching the animals at Hackney City Farm with my two children and swimming in London Fields Lido on a cold winter morning is a great way to start the day!"
What's your favourite meal to eat/ cook and why?
"My family and I have started growing our own vegetables and there is something very rewarding about cooking with ingredients you have nurtured and watched grow. I really enjoy cooking a beetroot nut-roast recipe which I learned on a cooking course with a friend – it is tasty, healthy and reminds me of a fun course. Although, if I want an easy mealtime with my young children it would be cooking their favourite meal – sausage and chips!"
What song always reminds you of good times?
"It would have to be Mr. Tambourine Man by Bob Dylan. My dad used to sing it to me when I was going to sleep as a young child and now he sings it to my children and they also love it. I associate it with being tucked up in bed without a worry in the world!"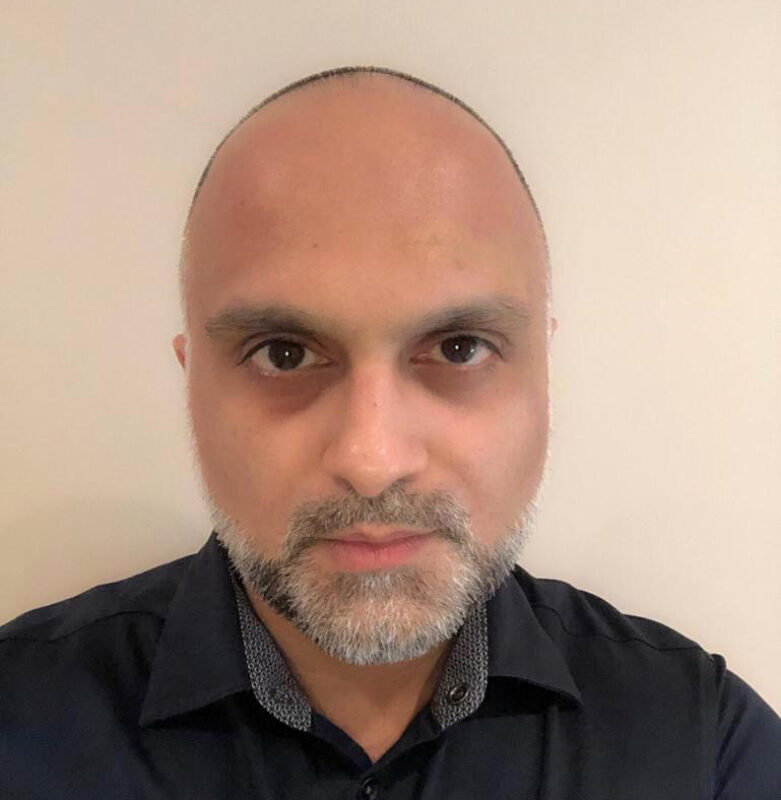 Pardeep
Incoming Treasurer Pardeep Dhoofer leads the Reporting & Financial Planning team at Queen Mary University of London, having previously worked at British Heart Foundation. He has worked in Finance for the last 25 years after gaining an Accountancy & Finance degree, and is a member of CIMA (Charted Institute of Management Accountants):
"I have been considering becoming a trustee for a little while now. This gives me the opportunity to engage with the sector again and volunteer my time and expertise during a difficult and uncertain period for all charities. I was attracted to Headway East London in particular due to the inspirational work already being carried out by the charity and from reading some of the courage and bravery shown by its members."
What's your favourite East London spot?
"One of my favourite places has to be Lahore Kebab House on Commercial Street. I still remember as a little boy, my dad used to always stop by on the way home from the M1, just to pick up a lamb karahi curry. I have been working in Mile End for more than five years now so am lucky enough to be able to visit during my lunch hour!"
What's your favourite meal to eat/ cook and why?
"I love food and I really enjoy cooking. In fact I try to cook a new dish at least once every fortnight. My latest invention was garlic and mushroom chicken thighs which turned out to be yummy! Due to my Indian heritage I love spicy food. You can't beat a good homemade curry. However, I enjoy all types of cuisine. I really enjoyed the food on my last holiday (which seems such a distant memory now) to Mexico. It all had to be accompanied with a good shot of tequila though ;-)"
What song always reminds you of good times?
"I love music and my taste in music is very diverse, from contemporary pop music, to rock, heavy metal, soul, R&B, trance and traditional Indian bhangra and bollywood music. The beat of the dhol (drum) really gets you moving! I also like to listen to nostalgic 80s music that reminds me of good times when at school. More recently, one song that always gets me going is Hey Ya by Outkast! Great video too!"