Services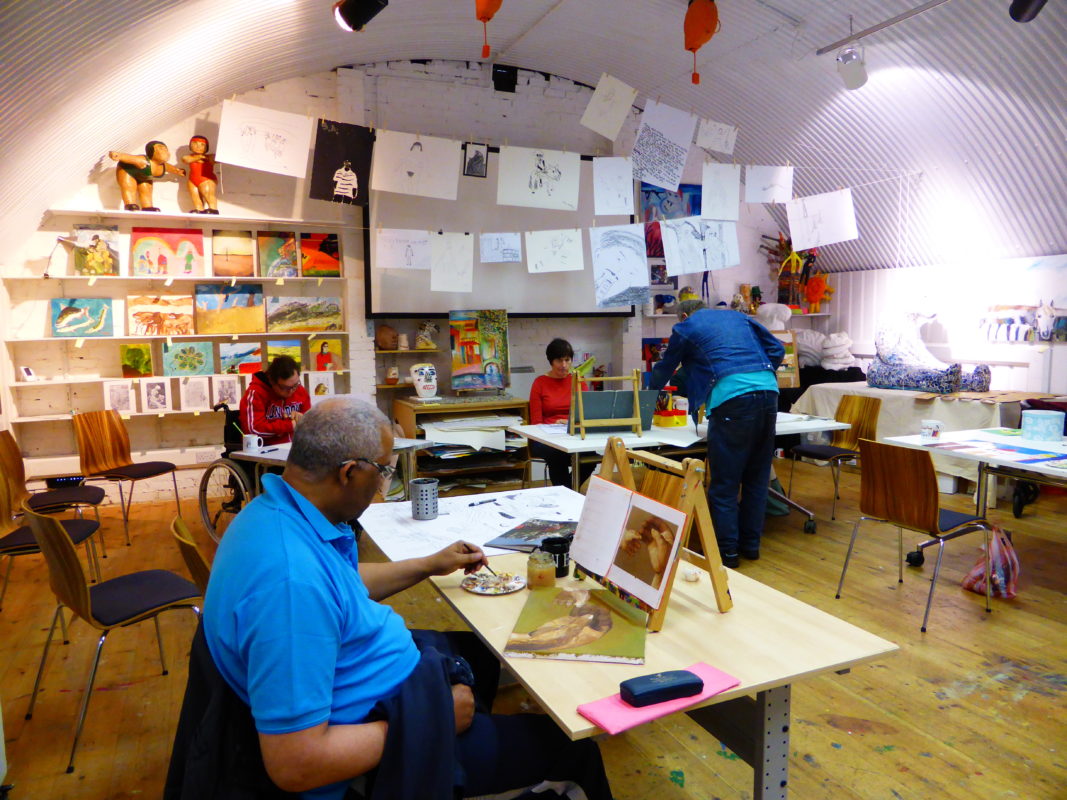 Day Service
Our Day Service, based at Headway House in Hackney, is a community which helps people make the most of their skills, abilities and interests.
The centre is open Monday to Friday, 10am-3pm for 48 weeks of the year, offering activities, outings and therapies, as well as professional and peer support. It also acts as a base for our other services. All members of Headway House have an assigned key worker who is responsible for their overall activity programme and personal plan.
To become a member you will need to complete a Referral Form, have funding secured and have an assessment with one of the staff at the Headway House.
Membership of the Day Service lasts as long as you need it to and as long as funding can be secured.
We carried out a satisfaction survey with our membership - you can see the results here.
Food
"I love this kitchen. It's simple, it's not hard for people with brain injury. The biggest thing I've learnt is unity. People work together. I do enjoy it a lot." - HEL member
Food is an integral part of our day, encouraging and supporting survivors of brain injury to learn or re-learn life skills and work together. Members help run a lunch club Monday to Friday, feeding everyone at our centre. We also run baking groups and support members to bring in and develop their own recipes to share.
Our Supper Club 'Headway EATS' treats diners to an evening of delicious, seasonal food; cooked by, served and eaten alongside Headway East London members, families, carers and friends. The event also welcomes members to share their talents for art, music and storytelling in a comfortable environment.
The garden
Our garden runs the full length of Headway House along Regent's Canal. This provides a peaceful setting for members to relax and socialise outdoors. As well as growing herbs and veg for the kitchen, we have built a cob oven which we use in the summer months. We also host public and private events throughout the year such as our annual family day.
Music
There are regular music groups in Headway House, where both staff, volunteers and members play and perform together. Our musicians have performed at many events and venues including Headway supper clubs and art exhibitions, the Regional Neurological Rehab Unit in Homerton Hospital and The Proud Archivist. We have also started our own SoundCloud account - showcasing the talents of our musical members.
Young People's Group
We also welcome a group of young adults over 18 and living with a brain injury to our centre each week (usually Fridays). Using peer support, this group lead activities suiting their interests. Recent examples include graffiti workshops, photography projects, skiing, kayaking, sailing and animation workshops.They form part of the community at Headway House, and have access to all activities and services as a member here.
Writing Projects
Our members come from all over London and have lived extraordinary lives. Who Are You Now? is a writing project that captures some of these life stories. Members, staff and volunteers also regularly contribute to our blog - sharing their interests and experiences.

Art
"The art studio is peaceful, it's creative. It's all the things I want in order to have some sanity." - HEL member
Submit to Love Studios at Headway East London is about creativity, collaboration and communication. We encourage both those with natural artistic inclinations and those with little previous experience to explore visual arts. Many have lost previous abilities so discovering a new skill is a great confidence booster and can reinforce the healing process.
Neurological Therapy Service
Headway East London provides neurological physiotherapy, occupational therapy, psychological services, neuropsychology and complementary therapy for people affected by brain injury living in London.
Each of our therapists has a minimum of 10 years' experience working with people affected by brain injury as well as post graduate training.
Our unique inter-disciplinary approach offers neurological therapies alongside community support work, our day service and occupational projects. Therapies can be offered at our centre in East London, at someone's home, or at another venue in the community. We offer a professional service to individuals, families, case managers, solicitors and statutory organisations.
What we offer & referrals
Specialist multi-displinary and medico legal reports
Inter-disciplinary neurological rehabilitation
Uni-disciplinary neurological rehabilitation
Upper limb therapy including Sabeoflex
Individual psychotherapy
Clinical neuropsychology
Health psychology
Couple and family counselling
Neurodisability management
Vocational opportunities
Case-coordination
Pain management
Group therapies
Complementary therapies
We accept referrals from any individual, their family / carer or any professional. If you wish to refer please complete a Referrral Form and return to Headway East London.
For further information please contact Nora Brennan, Therapy Manager on therapies@headwayeastlondon.org
Community Brain Injury Service
During 2017 Headway East London will be working with Enfield Clinical Commissioning Group (CCG) to deliver a brand new service in the borough of Enfield.
The Community Brain Injury Service provides specialist therapy services for adults with a non-progressive acquired brain injury except a stroke.
You can find out more about the service, pathways and referral process by reading our factsheet below.
Psychological therapy placements
We accept students on placement who are in their second year (or above) of Masters or Doctorate level training in the following disciplines:
Psychotherapy
Counselling psychology
Clinical psychology
Art psychotherapy
Dance and movement psychotherapy
Music therapy
Please contact Tina Greenhill, Lead Counsellor/Psychotherapist, on tina.greenhill@headwayeastlondon.org for more information.
Community Support Work
We have an experienced team of community support workers specialising in supporting brain injury survivors in their own homes and local communities.
The service can be offered in conjunction with our other services, whilst Support Workers have access to our team of experienced staff and therapists.
Community support we offer
Personalised support plans are developed to enable the people we work with to live their life in the way they want to and achieve their goals. This can include:

A strong focus on social activities, education or work
Managing complex activities at home like managing finances, budgeting and paperwork
Our Support Workers work with individuals to develop and maintain a daily and weekly structure which promotes well-being. We take great care to work collaboratively with someone's family and friends, Case Managers and other professionals involved in rehabilitation. All of our Support Workers:
Have direct experience of working with survivors of brain injury (many having been volunteers at Headway House)
Can arrange joint sessions with the therapy team to develop specific strategies to help someone achieve their goals
Referring for community support
Casework & Family Support
Our team provides advice, advocacy, support and signposting for brain injury survivors and their family/ carers.
From early intervention work, to community support groups and peer support work – each individual can access the information and services most suited to their needs. This can take place alongside other services offered at Headway East London, or as a stand-alone offering.
Training
Headway East London runs Member-Led training to help people understand more about acquired brain injury and the impact it can have. Members share their expertise about living with brain injury, through presentations, active learning tasks and personal stories, in ways which are highly engaging. The Training Team are passionate about raising awareness and providing brain injury education, and about championing the role of Headway and the Third Sector. Training is bespoke: adapted to the needs of the audience. It can range from an hour's talk to a one-day workshop.

Training we offer
"Your members were amazing and so insightful and articulate about their journeys and experiences.... this type of teaching is invaluable so thank you so much for your time." - University lecturer, 2016
Over the last few years Members have provided brain injury training for:
University students (physio, OT, speech and language therapy, podiatry, neuroscience and social work)
Health and social care professionals
Solicitors and lawyers
Transport for London
Financial Ombudsmen
Headway East London Members are also involved in a Pan-Disability Training Project in Hackney.
For further information about training please contact Amanda D'Souza, Clinical Lead: amanda.dsouza@headwayeastlondon.org

Referring to our services
If you wish to refer someone to any of the Headway East London services, please contact us on 020 7749 7790 or download a referral form below:
Referral Form (Word Version)
or
Referral Form (PDF)

Please note that Headway Services must be funded for a person to attend and/or receive the service. See the Referral Form for service costs.

Please send completed forms to:

Headway East London
Timber Wharf
238-240 Kingsland Road
London E2 8AX
Info@headwayeastlondon.org
Please ensure you enclose all supporting documentation.