Dramatherapy with Egle
Last September we welcomed Egle to our therapy team, a 3rd year dramatherapist student at the University of Roehampton. We were thrilled to offer a new service to our members and as her student placement year comes to end, we were curious to find out more about dramatherapy and her time at Headway East London.
On today's blog we hear from Egle and Headway member Margie, who reads her story 'Journey Into The Cave'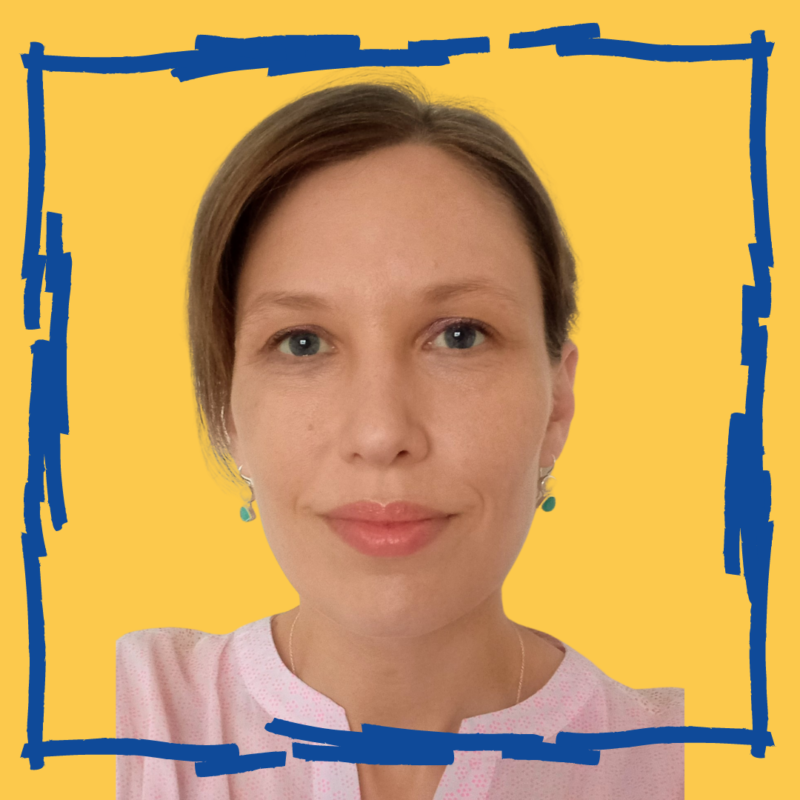 Dramatherapy is a form of psychological therapy which enables clients to explore their life experiences, emotions and thoughts through various creative approaches. In dramatherapy people work with images, objects, stories, roles, movement, music, etc. It is all about an individual and their personal preference/need. Clients who are referred to a dramatherapist do not need to have previous experience or skill in acting, theatre or drama. Dramatherapy promotes a distanced approach (through a metaphor) to explore the more difficult or painful experiences, which creates safety for a person.
Dramatherapy also gives equal validity to body and mind which opens up a possibility to connect with and communicate feelings not only through words but through physicality as well.
"It has been the most wonderful experience to meet and work with the members. I am left humbled by the people's honesty, courage, creativity and empathy."
At Headway, I facilitated dramatherapy via zoom and in the centre, and worked with both individual clients and groups. It has been the most wonderful experience to meet and work with the members. I am left humbled by the people's honesty, courage, creativity and empathy which they shared with one another and me.
Generally, the main goal was to provide the members with protected time and space to explore their identities and different parts of them. I believe this goal has been achieved, because I have witnessed people meeting the aspects of themselves which had been suppressed or forgotten due to the challenges of everyday life.
Journey Into The Cave
Margie is in a warm colourful landscape. lovely nature is all around - blue sea, mountains, sky. She can hear people chattering. lots of birds. Margie sees some baby ducklings in a pond and goes to feed them. They fight over the crumbs. Margie tells them to be polite and they listen. Margie is like a bird whisperer; she would love to talk to the birds.
Margie sees a building in the distance, which is a busy shopping mall. "Why are there so many people? They shouldn't be there, it's Covid, it's too dangerous" says Margie. She decides not to go in and turns to walk down a different path. She walks alone observing a quiet, beautiful nature...
There is a tree and a soft grass. Margie decides to sit underneath it to have a snooze. The voices of people cannot be heard anymore, just the birds.
Margie wakes up and sees a cave which looks welcoming. Margie is feeling curious about the dark cave, she is not afraid of it.
Then, she finds a little bottle which says 'drink me', which she does. It makes her shrink to a very small size. Margie enters the cave and sees lots of small furniture inside of it. She tries to sit on a chair but it's too small, the next one is too big, and the third is just perfect! Margie decides to have a little snooze. After that, she finds a note telling her to find a present which makes her feel excited. The present turns out to be a lovely princess dress. Margie puts it on and dances around in twirls with lightness in her body. she then collapses on a bed and falls asleep. Margie wakes up by feeling a kiss on her cheek - it's her younger son. he is big and she is small, she can fit in the palms of his hands. That makes her worried as she is the mother and she is supposed to have big hands...She wants to be the same size as him. Luckily he finds another bottle to magic drink. Margie trusts her son and drinks it. She is back to normal size! After exiting the cave, mother and son decide to find their way home separately, because Margie wants to do it alone. Her son trusts her to find the way back home. And so they return. Margie's husband and older son have been busy in the workshop and hadn't noticed that the other two were far a way on a journey...