A fun day was had by all at the Meet the Artists event down at the Southbank Centre last Thursday. Headway members made their way into central London in a convoy of cabs, before leisurely walking around the exhibit chatting to visitors about their practice. We caught up with two of our members to hear their thoughts on the exhibition!
Mike's work is pride of place facing the window. The bright orange and pink colours in his work have been attracting quite a lot of attention, as have the words written on the side of his box: 'Following partial recovery from a severe stroke in 2015, Headway has introduced me to the creativity of oil painting, giving me a more positive outlook on a physically restricted future.' 
Apparently, Mike had barely picked up a paintbrush before going into the art room at Headway. "Michelle (creative lead in the Art studio) pointed a canvas at me and said 'Mike! Paint this!' I've been a graphic designer all my life, but have never really done much painting. I find it difficult to move my arm in the same way I used to, but I've now worked out a way of painting straight up and down, like this (he demonstrates)." Mike says that being creative at Headway has encouraged him to get back to his creative roots, and he has recently decided to do a part-time Fine Art diploma at the Art Academy in Borough.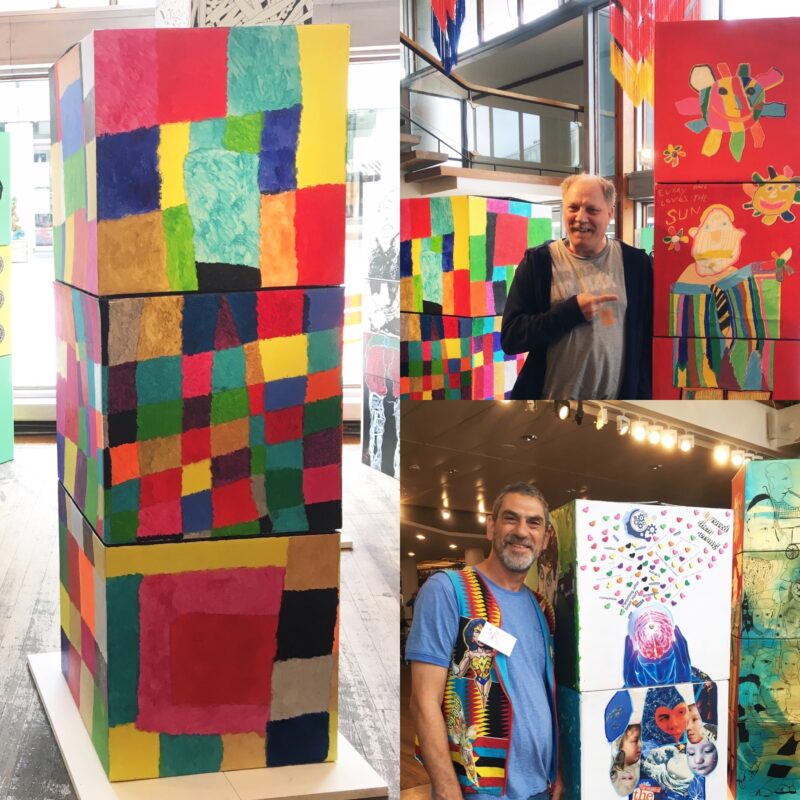 Just behind this work, Thursday member Dave stands beside his piece. "It's lovely being out talking to people! The general public! You know what, people are so friendly." The idea behind his artwork (bottom right) is coping with parenthood while also recovering from an acquired brain injury. He cut words from a pamphlet about the brain, collaging them together with wooden hearts and the words 'I proved them wrong' in large letters. "Well, that's exactly what I've done!" He says. "It wasn't easy, but – me and my wife – we've worked through it as a family. Being honest and straightforward is the best way to be. That's why this exhibition is so important, too. It gives the members a voice." While most of us relaxed and ate lunch, Dave and another member, Billy, were engaging people in conversation and pointing out the various themes running through the artworks. Dave then gave an impromptu speech, thanking Madeleine (the Exhibition Coordinator from the Southbank Centre) for all her hard work in helping us to put Making Faces together. "She's done a fantastic job. Thanks for giving all of us this opportunity!"
We couldn't agree more.
The exhibition runs until the 23rd August. See the Guardian article about the exhibition here.