Winter Feast at Headway East London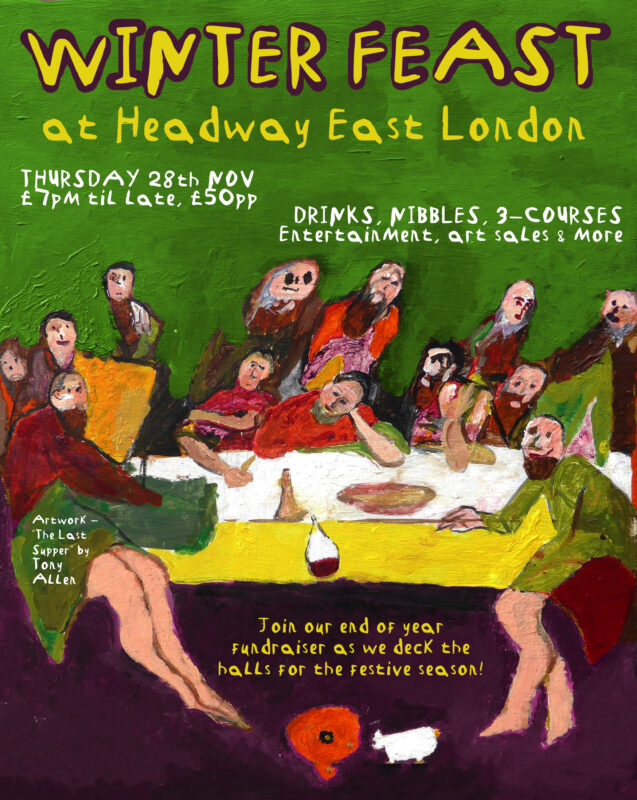 Join Headway East London for our inaugural Winter's Feast - a sumptuous meal with all our friends and supporters to celebrate the year's end and raise funds for the charity. If you're seeking a fresh idea for a festive night out for your team, or want to dine somewhere special with family and friends, why not book a table in our east London Winter Wonderland?!

There are two dates available: Wednesday November 20th and Thursday November 28th.

The menu will be devised and prepared by our supper club crew of Day Service members and volunteers, who will be pulling out all the stops for this one. We'll be decking the Submit to Love art studio and railway arch and making it two nights to remember!
Tickets are £50 per person, and include:
- a boozey (or fruity) welcome drink and nibbles
- three delicious and seasonal courses
- special perfomances and a few festive surprises.

As this is our major end-of-year fundraiser, there will also be a pay bar featuring some of our favourite local breweries and beverages, a raffle and the opportunity to buy one-of-a-kind art pieces and merchandise made or designed by our artists. You won't be stuck for unique gift ideas this Christmas!
Thanks to sponsorship from Irwin Mitchell, all proceeds from ticket sales will directly support our work with local brain injury survivors and their families, many of whom will be involved in making the evening unforgettable.

Thanks also to Five Points Brewing Co. for providing locally brewed beer for the bar; all proceeds from alcohol sales will boost our fundraising total.
Sign up for news
Sign up for updates on news and events from Headway East London