Headway @ Science Museum Lates "Medicine"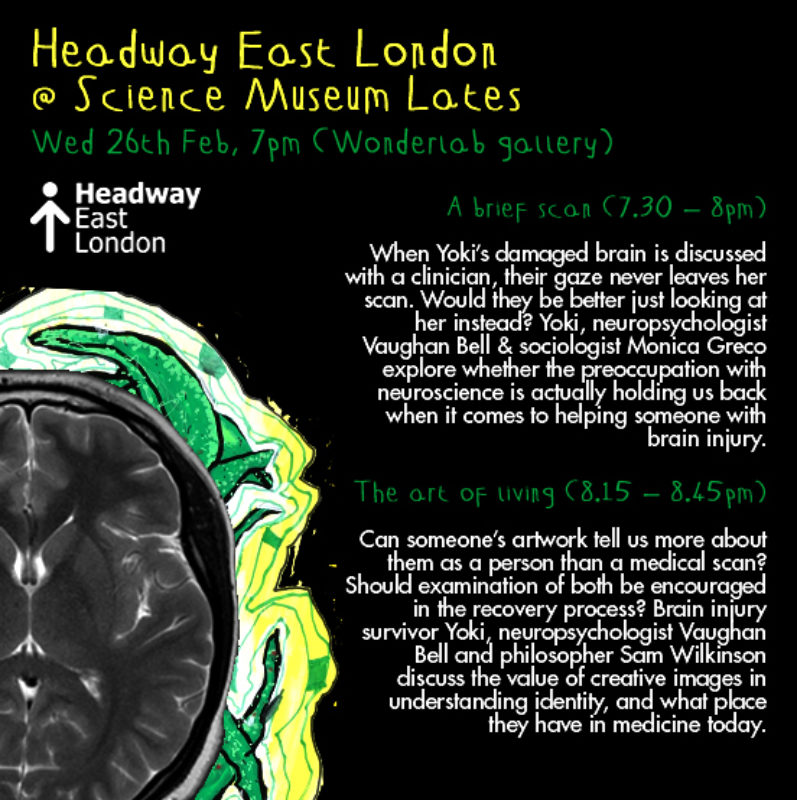 Join us for a pair of panel discussions exploring the limits of art & science after brain injury
We're thrilled to be joining the Science Museum Lates event "Science City" this month! Billed as an adult only evening of relaxed learning on a particular theme, on 26th February the museum will be celebrating the intersection of science and the city. Headway East London are heading backfor the evening - exploring identity and life after brain injury for survivors in London (with a particular scientific focus on brain imaging and the value of other images in medicine today).
Entry to the museum is FREE and the evening runs 6.45pm - 10pm (with Headway East London events taking place between 7-9pm). We hope to see you there, and here's a preview of the talks we'll be running:
A brief scan (7.30 - 8pm)
When Yoki's damaged brain is discussed with a clinician, their gaze never leaves her scan. Would they be better just looking at her instead? Yoki, neuropsychologist Vaughan Bell & sociologist Monica Greco explore whether the preoccupation with neuroscience is actually holding us back when it comes to helping someone with brain injury?
The art of living (8.15 - 8.45pm)
Can someone's artwork tell us more about them as a person than a medical scan? Should examination of both be encouraged in the recovery process? Brain injury survivor Yoki, neuropsychologist Vaughan Bell and philosopher Sam Wilkinson discuss the value of creative images in understanding identity, and what place they have in medicine today.
Sign up for news
Sign up for our newsletter to stay updated on our work, as well as donating, fundraising, volunteering and campaigning opportunities: